It looms over the Grand Pier and makes the big wheel on the waterfront look small. Since it was formed on the beach at Weston-super-Mare, see the monster The decommissioned North Sea gas rig turned into one of the UK's largest public art installations has sparked a potent mix of scratching, interest and anger.
Finally, after a delay caused by the vagaries of this summer's harsh weather (sometimes very hot, other times very windy), visitors this weekend are invited to climb aboard.
Patrick O'Mahony, the creative director of the project, agreed that the piece would not be to everyone's taste. "We knew it would lead to a split of opinion. I'd rather people like it or hate it than be indifferent. There is nothing worse than doing something that people have no reaction to."
The installation is the ninth to be produced as part of Unboxed: Creativity in the UK series – Also known as the Brexit Festival – which has attracted widespread criticism and ridicule, not least because of the cost of the project: £120m to taxpayers in the four countries of the UK.
O'Mahony said he is sad that Unboxed has been ridiculed. "We are close to the other nine committees. art Entertainment has had a really hard time, and to have that level of investment in this sector has been amazing. It has been years of work on these projects. People should be judged on the basis of work."
People have been judging See Monster since the 450-tonne platform was moved to Somerset in July, hauled from the North Sea on a barge larger than a football field. The scale makes it hard to ignore – at 35 meters in height, it is 15 meters taller than the Angel of the North.
Artists, engineers, and gardeners have created a 10-meter-high waterfall, representing the roar of the beast, and 6000 pieces of aluminum glisten in the wind like the scales of the mythical beast. The platform's 16-meter boom is the creature's neck and head.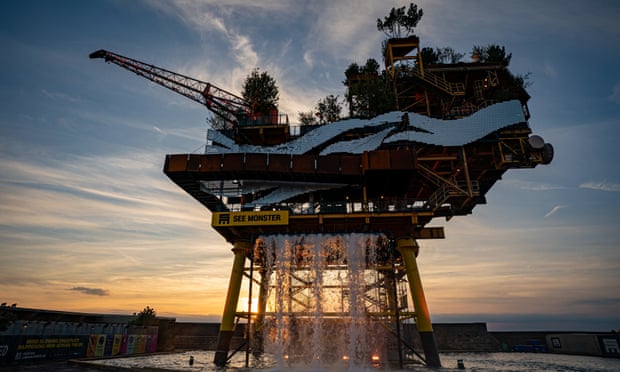 Other features include a cloud machine and a garden of trees, herbs, sculptures, and primitive tools that produce renewable energy to power at least some of the installations. The BBC Radio's freight forecast is carried to the helipad above, which has great views across the hills of Somerset, Devon and South Wales.
The idea is to spark discussions on topics such as how industrial structures might be redesigned, how the world should move from fossil fuels, sustainability and British weather.
Paradoxes abound. Not least the fact that renewable energy is a major topic of this government-backed installation – but British Business Secretary Jacob Rees-Mogg has made clear he wants to lobby per cubic inch of gas From the North Sea, using platforms just like these.
Ella Gilbert, climate scientist at the British Antarctic Survey One See Monster adviser did not directly criticize the UK government but said: "The science is very clear. We need to move away from fossil fuels. We need to significantly raise our level of ambition when it comes to climate change. This is a creative way to show how we are doing that."
Another irony is that while sustainability is another topic, See Monster's stay in Weston will be very short. There are fears that its huge presence will have a negative impact on the wading birds that spend the winter here, so at the beginning of November it will be closed.
New homes for plants and artwork will be found but the platform itself and trucked pieces will be shredded for recycling. Manufacturers insist that while their beast will disappear, people around the world will use the lessons they have learned to turn unused platforms into art installations, hotels or diving platforms.
Until it disappears, See Monster will hopefully provide the same lift for Weston Dismaland Banksy – A twisted version of Disneyland – I did in 2015.
"It brought a different kind of tourist to Weston," said Walter Byron, who serves as host at See Monster. "I'd like to stay and put a restaurant on top."
The second host, Sarah Windall, who also works as a supply educator, said: "There was a lot of skepticism. Some people complain that the money for this comes from their taxes but I think it's a smart way to look into the future through art."
Among those watching the beast's final touches was Eileen Day, a Weston resident celebrating her 76th birthday with a trip to see how the work was progressing.
"It's something different," she said. "I think it's good for the city. People would come here on their holidays and say, 'What is that thing over there?' It puts Weston on the map."