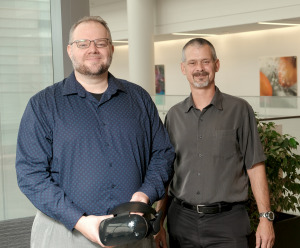 A team from the Indiana University School of Medicine is developing a virtual reality therapy that tackles a difficult challenge: helping people stay alert.
A high-tech approach allows a patient recovering from drug abuse to interact with potential future versions of themselves. It aims to help patients gain a clearer view of their future and avoid relapse — steps that can be particularly challenging for those who are recently in recovery.
"Virtual reality allows you to do the impossible: time travel," said Brandon Oberlin, principal investigator on the project and associate professor of psychiatry at IU School of Medicine.
The project, which has been in development for four years, has recently gained momentum. Over the past five months, it has attracted more than $4.9 million in NIH funding.
In September, the team published the results of its first study, and the results indicated that the concept was promising enough for further development.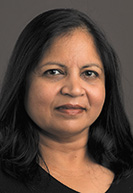 Oberlin and another member of the research team, Andrew Nelson, also formed a startup, Relate XR LLC, to lay the foundation for marketing opportunities. IU helps the two pursue marketing.
Nelson, an IU graduate and founder of Indianapolis-based Half Full Nelson LLC, has a background in virtual reality development. Half Full Nelson specializes in creating educational games and virtual reality experiences.
In the world of research grants, $4.9 million isn't a lot, acknowledged Lakshmi Sastri Dent, director of technology marketing at the IU Innovation and Commercial Office. But the grant indicates that the team has an idea worth pursuing, she said. "I think it's a very respectable start for a technology at this point in its progress."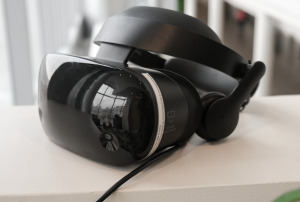 How it works
The research team is developing a tool that captures images, media interviews and audio samples of a patient and uses the information to create two separate images. One represents a future in which the patient remains sober for 15 years. The other—a more disoriented, restless, and visibly older future personality—represents what the patient might be like after 15 years of continuous drug use.
During the session, the patient can talk with each avatar about what real life is – or what causes substance abuse – with details relevant to that patient's life. A sober avatar may, for example, talk about you getting a college degree or being reunited with family members. A drug-taking avatar may express regret about missed opportunities or time spent behind bars.
"We're making this lively and focused," Oberlin said.
He said it was too early to draw firm conclusions about the treatment's potential effectiveness – but the early results were encouraging.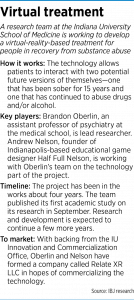 The study involved 21 people currently undergoing drug treatment in Indianapolis. After the virtual reality session, people received daily text messages with a picture of their sober future avatar. Of these 21 participants, 85% maintained abstinence over the 30-day period, based on both self-report and drug test results.
"That's a very good rate," Oberlin said, especially for people in the early stages of recovery. All subjects had been in recovery for less than a year.
Relapse rates vary depending on how long a person has been in recovery and what kind of substance they abused, he said, but overall, about 50% of patients in recovery experience a relapse within six months. "In that early recovery period, relapse rates are really high."
Oberlin said the intent is that doctors can use the tool as part of a larger treatment program — not as a standalone solution. "We have no illusion that this thing is going to be strong on its own, necessarily."
Oberlin and Nelson say they expect research and development to continue over the next few years, and consider it too early to say when the product will be ready for market.
Nelson said the team remains flexible about the final product, especially as virtual reality technology continues to improve.
"It's exciting to see where it's all going," he said.
One of the technical aspects the team is working on is the amount of time and effort required to create each avatar.
When the project started, Nelson said, it took four or five days to make a personal avatar. The team has reduced that to about a day and hopes to reduce that period even further.
Initially, doctors will likely collect personal information from patients, Nelson said, and then submit it to the Relate XR, which will make the avatar. Over time, the goal is to make the process easy enough to create an avatar in the doctor's office.
"Ultimately, the ultimate goal is that we don't need to be in the loop as much," he said.
commercial potential
Although commercialization can take years, IU is helping Oberlin and Nelson secure patent protection for their technology and connect them to entrepreneurial resources.
Sastry-Dent said her office has already linked Oberlin and Nelson with a legitimate investor who might be interested in the future.
IU's Office of Innovation and Marketing, which helps IU researchers commercialize their innovations, reviews 160 to 180 projects each year. She chooses about 60% that she sees as marketing potential.
Sastry-Dent said the project caught her eye because it could help solve a major societal problem. "I think there is a huge need at this time for innovations in the recovery space."
Aside from 12-step programs such as Alcoholics Anonymous, Sastry-Dent said, "Patients already have very little to support them at this critical time. … There is an enormous void in this space — and [early recovery] It's a dangerous time."
A local professional with experience in drug abuse also said that she sees great promise in the IU team project.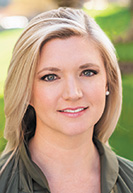 Clinically, I love it," said Stephanie Anderson, vice president of strategic initiatives and quality improvement at Mental Health America in Indiana. Anderson is a licensed clinical social worker and has worked in both public and private sector jobs in the drug abuse field.
Anderson said the only VR project she knows about in addiction is at Johns Hopkins University in Maryland. This project involves using technology to help patients recover from stress and anxiety.
She said the IU project appears to be building on some old aspects of recovery programs. She said substance abuse reduces a person's ability to abstract thinking and impulse control, and 12-step programs are usually organized to help people deal with these challenges.
Anderson said that, for example, a new member of Alcoholics Anonymous is asked to write a letter to his addicted self. This message can take many different forms, she said, but it's usually a tool that people can turn to if they tend to relapse. The letter may talk, for example, about a person's negative experiences as a result of addiction.
Anderson said the IU project "takes this idea to a different level." "…it kind of hits all of those areas and really helps an individual who needs tangible focus."
Oberlin said he believes his team's project could eventually be used by patients with challenges other than substance abuse.
"There are some other areas in mental health that require new solutions." •